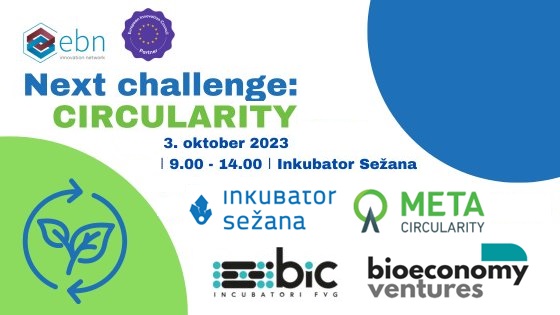 Join us in Sežana on 3rd October 2023 in Sežana at the event titled Next Challenge: Circularity where we will address the challenge of increasing circularity in companies and ecosystems, while showcasing opportunities offered by all of the co-organisers in their respective target areas. The event will spotlight experiences from major companies and exemplify impactful decisions, driving the transition to a circular economy. Additionally, we will introduce an initiative to accelerate circular and sustainable practices, aiming to engage existing and new actors for collective progress.
The meeting is open to all circular innovators. The primary target groups are:
Innovative start-ups working on circular technologies and solutions,

Research and innovation teams developing solutions with high circularity potential,

Early investors in such solutions and technologies; and

SMEs and large companies, in particular their management and research and innovation units, working on circular innovation and incubation projects.
We also welcome other participants, including researchers, representatives of the support ecosystem and independent experts and advisors from the private and public sectors working on the challenge of the transition to a circular economy.
Why attend?
The event is an opportunity for early applications to programmes and services related to sustainability issues provided by the organisers. You will find out more about the circular challenges and opportunities in our respective cross-border business environment, and learn about specific good practices and emerging examples.
When and where do we meet?
The event will take place on Tuesday, 3rd October 2023 from 9.00 am at the premises of Inkubator Sežana (Kraška ulica 2, 6210 Sežana, Slovenia)
Registration
or write an e-mail to: info@circularbusiness.academy
Preliminary Programme
(Speakers only to be confirmed)
9.00       Registration and coffee
9.30       Opening of the programme
               Sustainable innovation and circularity as an opportunity for the innovation ecosystem
               Dorijan Maršič, director, Inkubator Sežana
               Q&A
9.40       Services to enterprises,
               Edvin Bevk, BIC Incubator, Trieste
9.50       CBA PowerTalk: The role of biobased innovation with increasing circularity of built environment,
               Bart Stegman, director, KIC Climate Slovenia
               Moderated by: Jurij Giacomelli
               (CBA PowerTalk will be registered, edited and made available through CBA YouTube channel.)
10.30     Coffee break
10.50     Investing in bio-based sustainable and circular innovation
               Diego Bravar, President, BioValley Investments (TBC)
               Q&A
11.05     Engaging innovators into our Circular endeavour: the Case of AquafilSLO
Edi Kraus, former General Manager, AquafilSLO
Q&A
11:20     Circular frontrunners
              Dr. Andrej Kos, director Marmor Sežana
11:30    Introduction to presenting Start-up cases: Simona Vernon, Bioeconomy ventures, TECOS
11.35     Next challenge: Presenting start-ups Next Challenge
             Moderated by Simona Vernon, TECOS
12.50    Q&A & & Feedback to start-ups, panel discussion
13.25    Conclusions & further bicircular opportunities
13:30    Buffet lunch and networking
14.30   End of the meeting
Our Partners
Inkubator Sežana
Since 1991, Inkubator d. o. o. Sežana has been providing services to support business and development in the local and regional environment, building an innovative business ecosystem. Incubator Sežana helps young talents, entrepreneurs and startups to develop and evaluate their ideas, advise them on starting a business, developing business models, penetrating new markets, and offers mentoring and consulting in product development, process organization, promotion, communication, marketing and more.
BIC
BIC is a certified business incubator that hosts startup companies for initial trials, evaluating the idea's worth and the ability to bring it to fruition, and the growth and training of management and the enterprise itself. It is an integrated system of services, a "conduit for entrepreneurship" and for providing professionalism, support, ideas, and help. It is a modern instrument to support entrepreneurial creativity on the part of those who believe and are ready to invest in technologically advanced companies, in innovations that will bear fruit in the coming years,   and in the new markets and opportunities that are opening up in the world.
[/vc_column_inner]