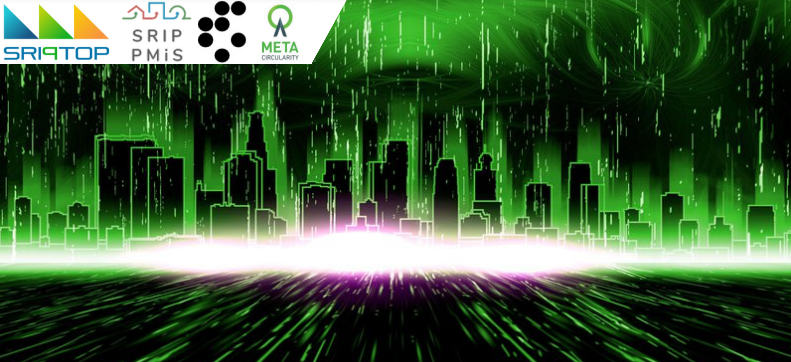 We are pleased to invite you to our upcoming event titled Dual Transition Projects: Bridging the Green and Digital Frontiers. An exciting event organised in collaboration with The "Jožef Stefan" Institute, SRIP Factories of the Future, and SRIP Smart Cities and Communities. We are excited to invite you to a transformative experience that explores the convergence of the green and digital domains, pushing the boundaries of innovation and sustainability.
At the event, Jurij Giacomelli, CEO and Founder of META Circularity and Circular Business Academy, will present his views on investment maturity of innovation projects and investing in technology transfer for the green transition and the circular economy.
When and where do we meet?
The event will take place on Tuesday, 5th September 2023 at 12.00 am in the big conference hall at the Jožef Stefan Institute in Ljubljana, Slovenia.
Registration
Programme
| | |
| --- | --- |
| 12:00-12:15 | Presentation of EIT-Manufacturing calls Nataša Pibernik, SRIP ToP, Institut "Jožef Stefan" |
| 12:15-12:25 | Innovation Support at the "Jožef Stefan" Institute mag. Robert Blatnik, "Jožef Stefan" Institute |
| 12:25-12:45 | Investment Maturity of Innovation Projects and Investing in Technology Transfer for the Green Transition and Circular Economy Jurij Giacomelli, META Circularity |
| 12:45-13:00 | Presentation of projects from the Climate Neutral and Smart Cities mission Dr. Nevenka Cukjati, SRIP PMiS, Jožef Stefan Institute |
| 13:00-13:15 | Q&A and networking over coffee |
Our Partners
The "Jožef Stefan" Institute: Renowned for its research excellence, The "Jožef Stefan" Institute is at the forefront of scientific discoveries and technological breakthroughs. Their involvement in this event underscores their commitment to advancing knowledge and fostering meaningful partnerships.
SRIP Factories of the Future: As a leading player in the industrial realm, SRIP Factories of the Future strives to transform traditional manufacturing processes into agile, efficient, and eco-friendly practices. Their contribution to the event emphasizes their dedication to shaping the future of manufacturing.
SRIP Smart Cities and Communities: In an era of urbanization and digital connectivity, SRIP Smart Cities and Communities focuses on creating intelligent, sustainable urban environments. Their collaboration underscores their pursuit of innovative solutions that enhance the quality of urban life.
[/vc_column_inner]